Himagsikan is the forty-fourth episode of Encantadia. It aired on September 15, 2016.
Summary
Amihan would have won against the Hathors by ordering the Air Gem to deprive them of air, but withdraws the order after finding that Mira was also affected. Mira finally admits that Pirena is her true mother. Amihan reenters the palace with Ybarro, who had decided to help her.
Chapter 22 (continued)
Amihan
 knocks out most of her opponents and vanishes with
Imaw
in a swirl of wind.
Amihan
wakes
Mira
with the
scepter
.
Pirena
,
Gurna
and the
Hathors
find her there.
Aquil, Muros, Alira Naswen and other soldiers go to the armory to obtain more weapons, but find them unusable. The powerful staff of Adhara was ignored.
Hagorn orders Vardos and the other bandidos to slay or capture anyone who would not surrender. He also told Vardos to address him as "King Hagorn," but Vardos was too proud to comply.
Amihan
 orders the
Air Gem
to deprive the
Hathors
, their kin and their allies of breath.
Pirena
,
Gurna
and the other
Hathors
faint.
Hagorn
was unaffected due to
Ether
's blessing.
Imaw
praises the queen's success, but they later find that
Mira
is also affected.
Imaw
wonders if
Mira
's father had
Hathor
blood.
Amihan
orders the
Air Gem
to give back her daughter's breath, but
Mira
is still affected by the curse.
Imaw
suggests that
Amihan
should revoke the curse in its entirety (actually, the
Air Gem
may have recognized that
Mira
was not
Amihan
's daughter, so it did not work when
Amihan
ordered it to give back her daughter's breath).
Ybarro arrives in Lireo and finds it in chaos. He sends Lusog back to the mandirigma camp to warn them about it. Asval, Dagtum and Axilom saw Ybarro, Pako and Wantuk enter the palace. Asval says Pirena must win.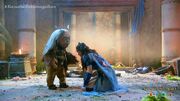 Amihan
 chooses to save
Mira
, ending the curse.
Mira
says she should not have done so, for she is
Pirena
's daughter.
Amihan
remembers every piece of clue and
Pirena
admits it. The
Air Gem
and
Fire Gem
clash, the
Fire Gem
slightly getting the upper hand.
Hagorn
arrives and slashes
Amihan
at the back.
Amihan
escapes with
Imaw
.
Mira
repudiates
Pirena
for her deeds.
Pako encounters Hagorn, but he stabs Pako. Ybarro and Wantuk join up with Aquil's party, and they defeat some Hathors.
Mila
and
Anthony
look for
Akesha
. By chance, a woman who knew
Akesha
and
Berdano
hears her and guides her to them.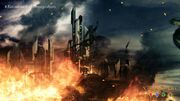 Ybarro
's party finds
Amihan
.
Abog
reports on their situation and advised that they escape.
Amihan
orders him to find
Aquil
and gather the remaining loyalists, and meet up in the camp of the
mandirigmas
.
Ybarro
says he will not forsake
Alena
's sister and his daughter's mother. They fight some
Hathors
and reenter the palace.
The Episode concludes with Lireo in chaos.
Trivia
First time Gurna is shown wearing her Hathor armor
Ad blocker interference detected!
Wikia is a free-to-use site that makes money from advertising. We have a modified experience for viewers using ad blockers

Wikia is not accessible if you've made further modifications. Remove the custom ad blocker rule(s) and the page will load as expected.